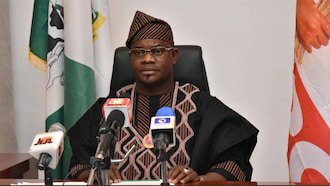 In what will come as a surprise to many people around the world, a Nigerian governor has rejected COVID-19 vaccine claiming that it is meant to kill people.
Governor Yahaya Bello of Kogi state consequently discouraged the use of COVID-19 vaccine.
The Cable reports that while addressing a crowd, Bello doubted the authenticity of the vaccine.
He was quoted to have claimed that the vaccine wants to be used to introduce a disease that will kill people.
The governor said:
"Vaccines are being produced in less than one year of COVID-19. There is no vaccine yet for HIV, malaria, cancer, headache and for several other diseases that are killing us. They want to use the (COVID-19) vaccines to introduce the disease that will kill you and us. God forbid."
The post Nigerian governor rejects COVID-19 vaccine, says it is meant to kill people appeared first on .